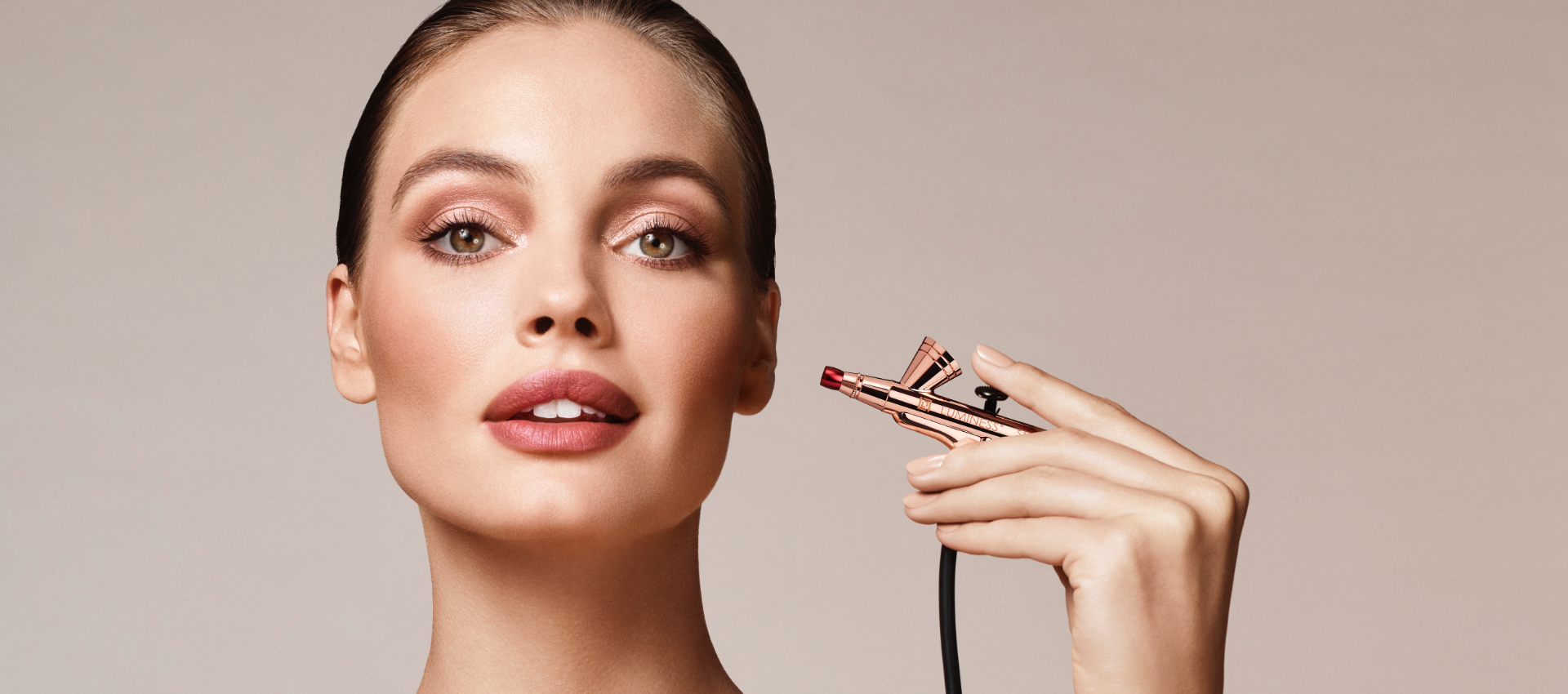 OUR FOUNDING STORY
Nearly 25 years ago, innovator, artist, and entrepreneur Sean Mehta had a thriving fashion and garment business as one of the largest importers of beaded gowns in the United States. During photoshoots for each fashion collection, he noticed something.
The makeup artist ALWAYS used an airbrush machine on the fashion models. He would ask each makeup artist, why are you using airbrush, and the response was always the same – It's the best way to give you the flawless look and the only one that can last the whole photoshoot. So he thought to himself – if airbrushing is the best way to give women flawless, long-lasting and beautiful coverage – WHY doesn't every woman in the country have one?
The answer was clear – traditional airbrushing was messy, loud, large, and relatively expensive – basically, it wasn't friendly for the everyday woman and the majority of beauty companies were focused on traditional cosmetics. Determined, Sean worked on prototype after prototype – making an airbrush system that was smaller, more portable, easier to use, more precise until finally – LUMINESS was born. Rooted in the desire to create something innovative, LUMINESS filled a need for professional quality results in an easy-to-use at-home solution.
Now that he had a product, he needed to determine how to get it into the hands of every woman in the US. After considering many different channels, he decided right in the beginning that in order to become successful he needed to maintain a close connection to the women using the product. After all, it was this close connection to the makeup artist that allowed him to see how breakthrough a device like this could be if it was to be made available for in-home use.
Read more
From that day, LUMINESS began advertising its Airbrush system directly to customers, fulfilling each order from its Houston headquarters, and after years of advertising has become the number one airbrush cosmetics brand in the united states with over 5 million airbrush systems sold. While the business has grown tremendously since that very first airbrush system, the principles and mission created at its founding still remain relevant today.
To be committed to creating innovations that challenge the status quo, are easy-to-use, deliver exceptional results, and are loved by the people who use them. Just like the first airbrush system did
To promise that our products will always maintain the highest quality, deliver efficacious results, and stand out from the competition through leading innovation
And to always maintain a close and direct connection with our consumers — the core of our business success
For years those principles allowed the brand to develop generation after generation of airbrush systems and formulations, our core product line. Each one pushing the boundary of what was thought possible farther and farther. Today, the ICON airbrush system, the 5th generation, is the smallest, most precise system available. Airbrush still remains the core of the brand, a standing reminder of the commitment to innovation and quality. However, the brand felt there was a larger need to take these founding principles and expand into categories that offered solutions for everything from canvas to color. And with that the development of a full line of Color Cosmetics and Skincare began.
Much like its original development with the airbrush cosmetics system, founder Sean Mehta and team set out to develop a truly breakthrough Skincare and Cosmetics collection. Hundreds of packaging concepts and thousands of formula versions were developed, each pushing the envelope — higher pigment coverage, innovative formula textures, and never been tried before packaging all combined to create a breakthrough color cosmetics collection featuring products for the lips, eyes, and face — a perfect compliment to the Luminess Airbrush System. A skincare line featuring proprietary ingredients, unique textures, and application methods quickly followed. Each of these products challenged the status quo, each delivered exceptional results, and each have been loved by the people who use them — a commitment started at its founding and un-waivered since.
Now finding itself with a complete beauty collection, in 2019, the brand officially became LUMINESS, representing and reaffirming its commitment to creating beauty innovations from canvas to color and maintain a deep connection with its consumers. This commitment can be seen in the millions of customers using Luminess products, the billions of media impressions both on TV and in traditional press, the numerous innovative product launches and collections including the 2019 Disneys the Lion King Sir John X LUMINESS Collection, one of the most talked-about cosmetic collections released in recent times.
So we invite you to enjoy one of LUMINESS's breakthrough formulations and explore the art of beauty.
Read less
OUR MISSION
Nearly 25 years ago, we began a mission to provide innovative beauty solutions, not compromised by the constraints of the traditional beauty market and ones deeply connected to the people who use them. We created an environment, sparked by an entrepreneurial spirit, that embraced thinking and acting differently.
Today, we remain committed to that spirit. We are Beauty enthusiasts, rule breakers, business builders, entrepreneurs, innovators, designers, artists — who all embrace the idea that the ART OF BEAUTY, is the ability to create fundamental change when you think differently. We are artists who create:
Amazing beauty products that challenge what we think is possible
Meaningful change in the lives of the people our products touch
And support future entrepreneurs and artists
An environment where its OK to break rules, innovate, and explore
Tools to experiment, play, and design
Access for others to build communities around the same things that make us passionate
A platform where we encourage, educate, and embrace everyone's inner artist
OUR VISION
"I founded LUMINESS because I wanted to challenge peoples thinking of what was possible with beauty. Today, this breakthrough thinking and an artistic spirit help us create products that deliver flawless results, and create opportunities for others to challenge themselves to think differently – this is the cornerstone of our success"
-Sean Mehta, Founder & CEO